Digital transformation of education
Hello Project Hope friends. It is an easily recognizable fact that the world is moving rapidly towards total digitization. With the evolution of digital tools almost every aspect of our lives has changed, from making utility payments to grocery shopping.
Therefore, when we talk about digital transformation, we refer to the process of implementation of new digital technologies in all aspects of society. And education has not escaped this digital transformation process, in one way or another, from primary schools to universities, have been impacted by this reality.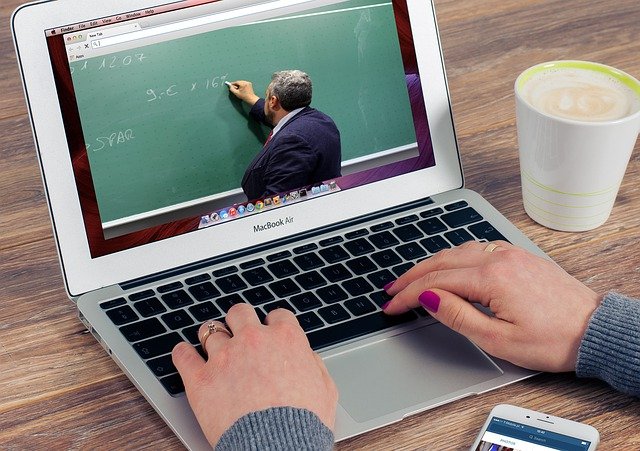 Education has not escaped the digital transformation process. Image credit: pixabay.com
And although Information and Communication Technologies have already burst into education for some time, perhaps most organizations did not pay much attention to them until the pandemic caused by COVID-19 forced us all to make use of these tools to a greater extent, showing us their potential advantages, some of which we can mention:
Evidence of progress at hand
Technology has played an important role in the documentation of student work. At all levels we have had the need to capture school work, which has helped the teacher to have a digital record of a student's progress.
By having the students' work recorded in digital format, it is easier for the teacher to make comparisons every so often of their progress, quickly detecting who needs more attention.
On the other hand, it is easier to share the work when it is stored digitally. I have observed some primary school teachers sending samples of the children's progress directly to their parents, instead of the process of taking the notebooks home.
https://cdn.pixabay.com/photo/2018/01/26/04/11/learning-3107773_960_720.jpg Today it is easier to have the information at your fingertips. Image credit: pixabay.com.
Promotes a creative education practice
Digitalization has imposed new teaching methods, many traditional techniques play with memorization, without highlighting the student's ability to reflect and evaluate on their own. But a digital environment bets on creativity, since at home the student will have more time than he would have in the classroom to solve a problem, the teacher must resort to strategies that allow him to assess the ability to analyze and reflect on the problem, instead of establishing repetition exercises.
On the other hand, the virtual environment allows the teacher to approach a teaching method adjusted to the capabilities of each student, instead of establishing the same method for an entire class, where some specific learning patterns can be ignored. In the same way, the student has more freedom to discover based on his reflective capacity and learn according to his creativity. Thus, repetition patterns were forced to be replaced by methods based on reflection and creativity.
Perhaps this point is clear, when using digital education systems the student is completely responsible for learning at their own pace, the teacher takes a guiding role, which proposes the topics and the line of learning, which does not mean that leaves the student alone with all the tasks, but becomes a support, and being in constant communication, through chats, video calls or e-mail, monitors their progress and makes the necessary guidance.
https://cdn.pixabay.com/photo/2020/05/02/12/38/homeschooling-5121262_960_720.jpg Digitalization has promoted autonomous learning.pixabay.com.
But at the end of the day, learning becomes autonomous and the student researches and resolves the issues raised at his own pace.
Supports the administration of the institution
The benefits are not limited to the student and improvements in the learning process. New technologies help to strengthen security and streamline the management of educational institutions themselves. Modern tools allow educational centers to keep track of their teachers and students in real time, for example, in the whatsapp groups formed for communication between teachers and students in my institution an administration staff is included, who keeps track of the activities and is attentive to any irregularities.
On the other hand, the interconnectivity that digitalization provides has improved communication between students, parents and the institution. Gone are the days when it was necessary to summon a student or his or her parent to address an issue of interest, something that can now be resolved with a video call at the moment.
---
It is undeniable that the impact that the internet has had on our lives has reached levels that a few years ago we could not imagine, and although some digital tools were already being implemented in the educational processes this pandemic forced us to put our foot on the accelerator, and we have witnessed these and many other benefits that the digital era has brought to the context of education, and that after this pandemic, I doubt that many are willing to return to the traditional system, so we will see that digitization will continue at an accelerated pace in the education sector.
---
I hope you liked the information, see you next time! https://cdn.steemitimages.com/DQme2oMCemMHV1AoZDzsvwAUETJBkZdS3sWgG89tYNpuRZJ/libre%20de%20plagio.png
Future reading