INTRODUCTION ABOUT EXCRETORY SYSTEMS AND MECHANISMS.
INTRODUCTION ABOUT EXCRETORY SYSTEMS AND MECHANISMS.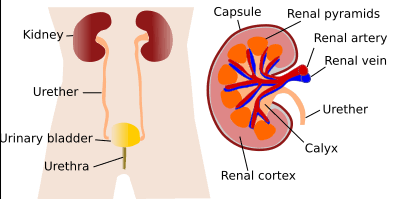 https://www.google.com/search?q=what+is+excretory+system+and+mechanism&oq=what&aqs=chrome.0.69i59l2j69i57j69i59.4162j0j4&client=ms-android-transsion-tecno-rev1&sourceid=chrome-mobile&ie=UTF-8 no
Group of organs concerned with the removal of waste metabolic products are called EXCRETORY system. Thus we defined excretion as the removal of waste products of metabolism from the body.
IMPORTANCE OF EXCRETION.
Waste products if not removed may be toxic and harmful to the body.
EXCRETORY SYSTEMS ( ORGANS).
ORGANISMS. EXCRETORY SYSTEM.
(1) Some unicellular__. Contractile vacu Organisms. ole.
(2) Flatworms___. Flame cells.
(3) Annelids(e.g.___. Nephridia. Earthworm).
(4) Insects__. Malpighian Tubules.
(5) vertebrates__. Kidneys, lungs, Skin and liver.
(6) Plants____. Stomata and Lenticels.
EXCRETORY ORGANS AND SUBSTANCES THEY EXCRETE IN VERTEBRATES.
IN ANIMALS.
LUNGS=
Carbon (IV) oxide and water vapour.
SKIN=
Sweats, salts, and nitrogenous wastes.
KIDNEY=
Urea, excess water, excess salts, ammonium compounds and acids.
LIVER=
Bile pigments.
IN PLANTS.
STOMATA=
Oxygen, carbon (IV) oxide and water vapour.
BARK=
Tannins, resins and latex.
LEAVES=
Crystals of calcium oxalate, calcium carbonate and anthocyanin pigments which give red, blue and violet colours to many flowers.
LENTICEL=
Oxygen, carbon (lV) oxide and water vapour.
EXCRETORY MECHANISMS.
EARTHWORMS
The excretory structure are called nephridia. Each nephridium consists of a oiliated funnel, called the nephrostome. The fluid which consists useful and useless materials enters the nephrostome and passes down the tubule. As the fluid moves along, useful materials are reclaimed by the cells lining the tubules while the waste materials leave the worm through the nephridiopores.
FLAT WORMS.
A flame cell is an EXCRETORY system in flatworms. It has an excretory canal and a blind end. The excretory cavity has cilia. Water passes into the cavity within the flame cell. Water moves out excreted into the cavity and discharge through the pore or mouth.
INSECTS.
The excretory organ in insects is the malpighian tube. The malpighian tubule lies in the hemocoel and are bathed in blood. The tubules extracts substances from the blood and pass them into the lumen of the tubule. There, water and useful materials are reabsorbed. As water concentration within the tubule decreases, uric acid precipitates. Since the malpighian tubule lead into the intestine, more water is reabsorbed there. The uric acid is then passed out with faeces.
REFERENCE.
Dr. Tim Kenny. Jaundice. Patient.co.uk. Retrieved 25 December 2014.
Janis, C.M.Keller, J.C. (2001),Modes of ventilation in early tetrapods: Costal aspiration as a key feature of amniotes (PDF). Acta Palaeontologica Polonica. 46 (2): 137–170. Retrieved 11 May 2012.
Dorit, R. L.; Walker, W. F.; Barnes, R. D. (1991). Zoology. Saunders College Publishing. ISBN 978-0-03-030504-7.
Future reading