Let Me Introduce: Steem Tech & Gadgets Community
Hello Steemians,
I feeling immense pleasure to introduce to all of you a wonderful community Steem Tech & Gadgets. This community is created to explore new technology and innovations happening around the world and to connect with tech experts and leaders and get reviews on the latest tech gadgets.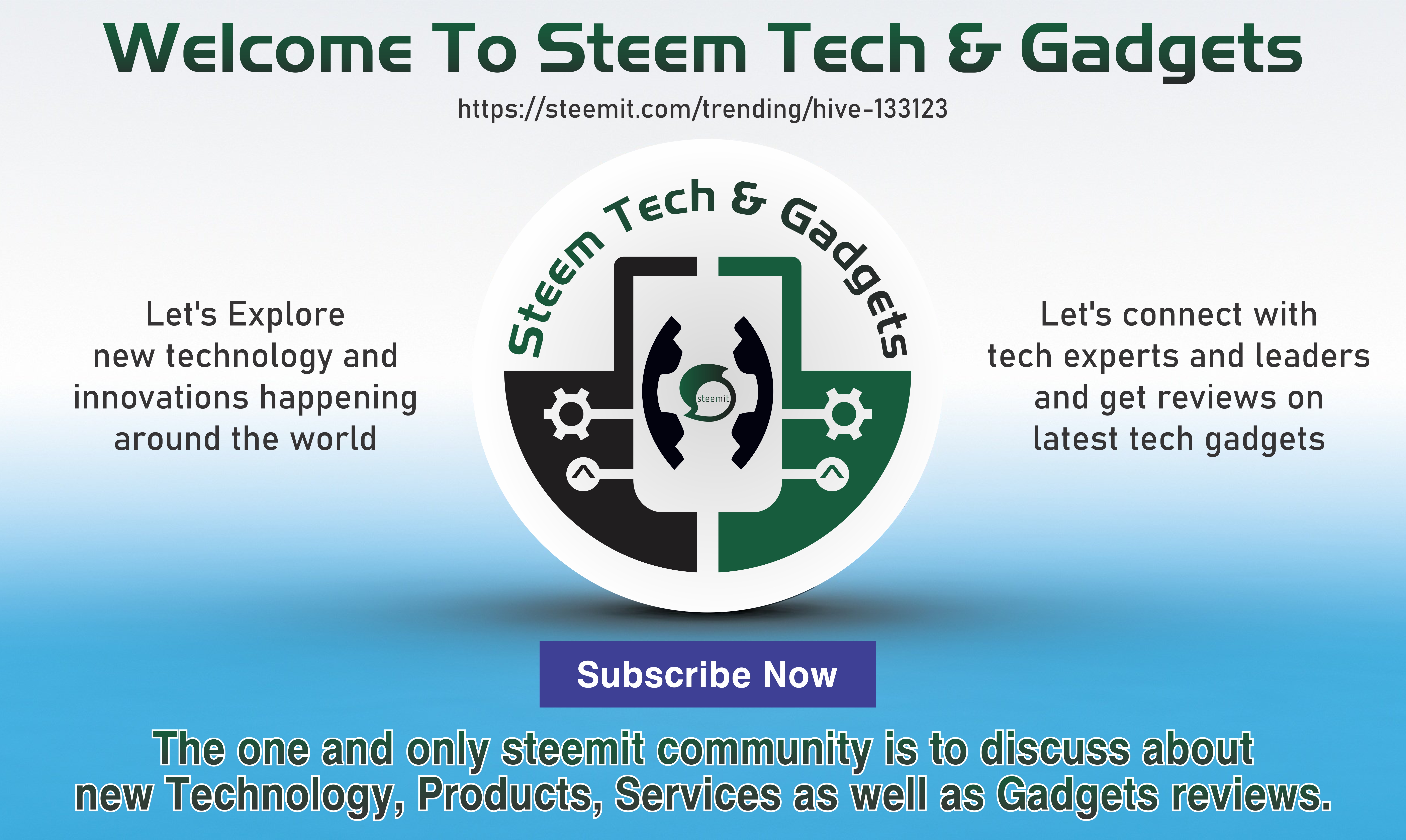 The Importance of Technolgy in Our Life
We cannot imagine survival without technology in today's fast-moving world. When recruitment, communication, and cultural dissemination take place through globalization, we cannot survive without technological advancement.
The Coronavirus epidemic has further proven, how important technology is for us, to stay connected, active, communicative, and basically surviving. In fact, this could be a good time for Steemians to take part in writing content on the subject of technology as an integral part of our lives, such as soon to move, eat, sleep, and technology.
However, let us consider seven very important reasons why we need technology:
Information
Gone are the days, when we had to run from one library to another within our city to find books and building materials for our college school projects. However, we would not be able to get the right information needed for the research work.
But today, with the help of Google, we are able to browse, any sort of information or information needed to go to a magazine call. Even with enlightenment and knowledge, we can browse the web. We can learn if we want to anytime, anywhere, because we have the internet and the computer.
Education
Technology has shown us how to overcome time and space barriers with computers and the internet. This has made education more accessible and accessible to people around the world.
Today, one person in India can study at Harvard or MIT, even at home, thanks to online tutorials that promote learning. Online school and college is not just an idea or a luxury; it is especially necessary when there is an epidemic. Studying online is of great benefit to students and universities, so all universities have changed their online programs.
This is, in fact, the next education system in which schools will go online to get affordable and uninterrupted courses. Besides technology gadgets like kindle and tablets make reading and writing easier and easier.
Internet
Globalization would not be possible without the Internet. The fact that we can connect and work in any part of the world is because we have the Internet.
We may have customer requirements and requirements from all over the world and we may be able to enter information and use delivery because we have the Internet.
In fact, Covid has shown that the Internet can keep our lives going even if we are locked up, nothing to do with our work, if it is based on the internet.
Entertainment
Technology is a major contributor to the world of entertainment. From video games and computer games to smart TVs, many different technologies have helped us to use our free time. Even today, movie theaters are no longer limited to the theater. Online streaming platforms and applications move the world of entertainment in a complete digital mode.
Research has found evidence of the role of technology in our daily lives. In fact, technology can save lives. Extensive performance, scanning, and medical diagnosis occur through the discovery of science and technology. Communication, work, and education are almost impossible without technology today.
For researchers and academics, the journalist's journal is readily available thanks to digital publishing platforms, all of which include technology. But technology has side effects like many other uses. We must therefore embrace the positive aspects of technology in our lives while avoiding choosing the wrong consequences.
Security
Technology provides us with security. Many home security devices such as spy scams, door cam, anti-theft systems are connected to our smartphones. Most of them are electrically designed for better safety and security.
Today we use a camera to see who is standing outside our door, instead of an eyeball. We can actually talk to someone before opening the door. Also, cell phones give us more confidence in the streets. When we have a communication gadget, we know we can call if there is a problem.
Communication
The first and foremost goal made by technology is communication. Social media and other technology programs include families. Today we can find long-lost schoolmates on Facebook, Twitter, Instagram and we can refresh our connections. In fact, we can even communicate with world leaders, prominent people on these platforms. Communication is also needed in the fields of technology, and technology ensures that we can communicate with the world from anywhere. We can't imagine our lives without a smartphone, but there was a time when there were no cell phones at all. Families no longer worry too much about their children these days, because the phones give them information about where the children are, so they are more comfortable with their safety than ever before.
Technology Helps in the Legal Process
With our security comes public safety and the greatest burden falls on the legal system. Technology has greatly helped to improve law and order. Today we have phone cameras, CCTV cameras, etc that testify to crime scenes. We have computers and the internet to detect any criminal from anywhere with a global database. Advanced technology has helped improve forensics, the treatment of cybercrime on a large scale.
The Objectives of This Community
The main objectives behind creating this community are as follows:
To explore technological advancement happening around the globe and become aware of this field.
To empower ourselves to keep pace with the times by learning and gathering information latest technology.
To connect with technology experts and leaders around the world and get their knowledge and expertise.
To promote and support technological innovations across the globe.
To support, to cater, to help, and to find investors for great ideas on technological innovations and startups.
To advertise, market technological innovations, startups, and ideas.
To give reviews of aspiring tech gadgets and promote them to the public.
To learn, to be aware, and to train the people on various technical skills and for that to arrange various tech classes.
To showcase the best technological gadgets, products, and services to the world.
To be aware people about new updates and upgrades of tech gadgets and give reviews on them.
The Rules of This Community
The subscribers and members of this community have to follow the rules to get team support.
Plagiarism is now allowed and it is strictly prohibited for this community.
All members have to maintain discipline and protocol for the best practices.
The member will get all the support from the admin team who help to increase members by inviting more friends and followers.
It is a request to all of your to support and resteem our posts to increase the visibility of this community.
It is expected from the members to spread awareness on their social media and for that, they will get more support from the team and community members.
Member Verification Process
All newly joined members requested to post their first introduction post to get the "Verified Member" Tag and get team support and encouragement.
Title of the first post: Introduce Myself for Steem Tech & Gadgets Community
Rules:
Your photo holding a paper that has written your Steemit Username, Current Date, Country, and the community name "Steem Tech & Gadgets"
Your first hashtag should be #steemtechgadgets
You have to include one tag @printskill in your post to easily find out your post.
It must be a unique and plagiarism-free post to qualify for verification.
Members who resteems and shares on social media will get more support (optional). If you have shared on social media screenshot will be helpful.
You are free to use the banner of this post on Social Media.
That's all but not the list because a lot more news is coming in the future and our aim is to make this community engaging, powerful, and active with a huge number of members and subscribers to become a number one community on steemit.
Regards @printskill

Future reading