Mi Mouse esta Loco. /// My Mouse is Crazy.
Hola Steemians, me complace compartir una vez más con ustedes…
Hello Steemians, I am pleased to share one more time with you…
Cuando uso el mouse, el puntero se vuelve como loco moviéndose con gran rapidez por toda la pantalla de forma descontrolada, además también se mueve solo; cuan no lo estoy usando se mueve, bueno más bien parece que temblara o vibrara y se mueve lentamente como si el Pc tuviese razonamiento propio. Por un momento pensé que algo se había dañado, al parecer esto sucede por dos razones. La primera es que puede estar sucio (espero que sea eso) y la segunda por algún daño en el cable.
When I use the mouse, the pointer goes crazy moving very quickly across the screen in an uncontrolled way, in addition it also moves by itself; When I'm not using it, it moves, well, it seems to be shaking or vibrating and it moves slowly as if the PC had its own reasoning. For a moment I thought that something had been damaged, apparently this happens for two reasons. The first is that it may be dirty (I hope that's it) and the second because of some damage to the cable.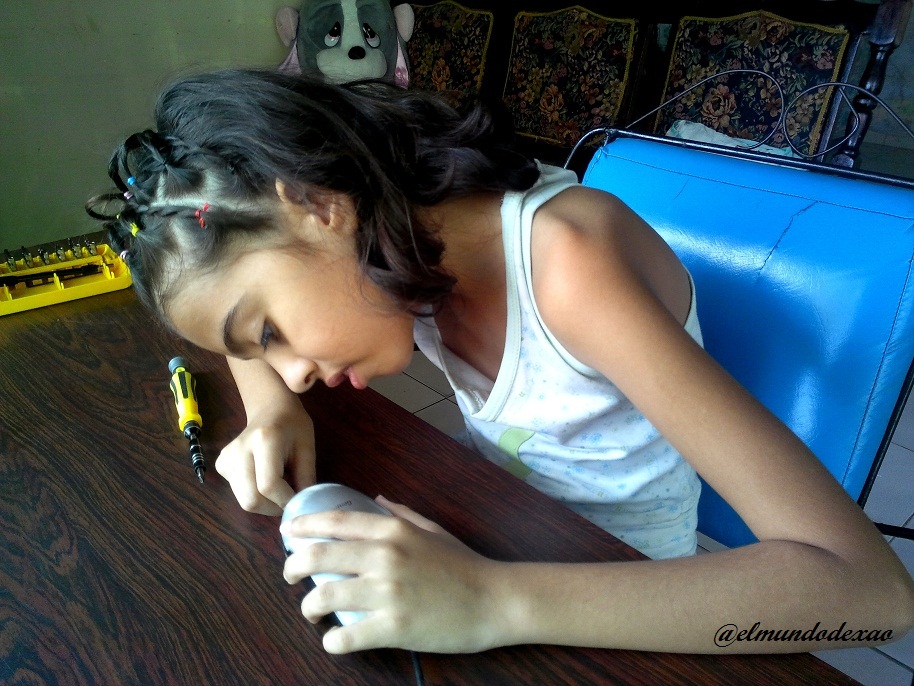 Aprovechare este desperfecto en el mouse para aprender algo más sobre reparación y mantenimiento de mi computadora como les he venido mostrando en publicaciones anteriores.
I will take advantage of this malfunction in the mouse to learn something more about repair and maintenance of my computer as I have been showing you in previous publications.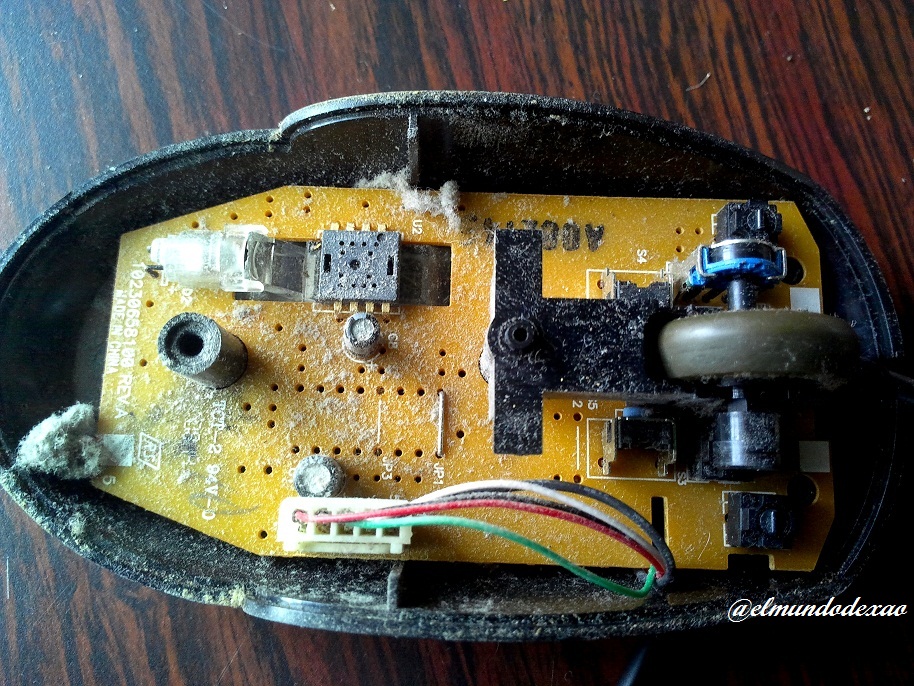 Como se puede ver en las fotos el polvo parece ser la causa más probable del desperfecto, por lo cual el primer procedimiento será limpiarlo para ver si con eso se soluciona el problema.
As you can see in the photos, dust seems to be the most likely cause of the damage, so the first procedure will be to clean it to see if that solves the problem.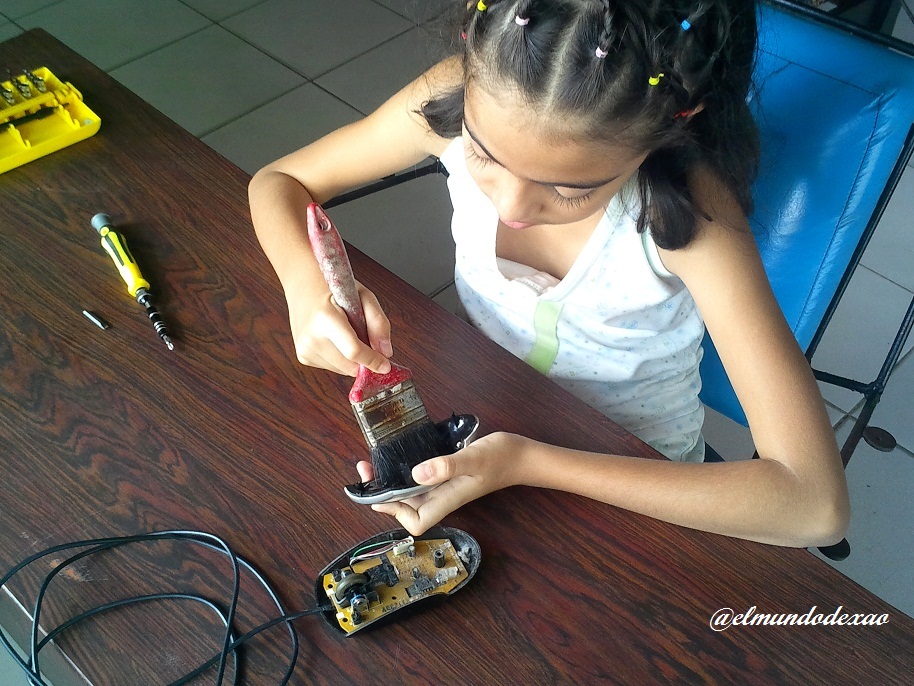 Lo limpiare con una brocha o pincel, ya puedo imaginarme una mota de polvo atravesada e interrumpiendo el paso del infrarrojo y por esta razón el cursor se descontrolaba.
I will clean it with a brush or brush, I can already imagine a speck of dust crossed and interrupting the infrared path and for this reason the cursor was out of control.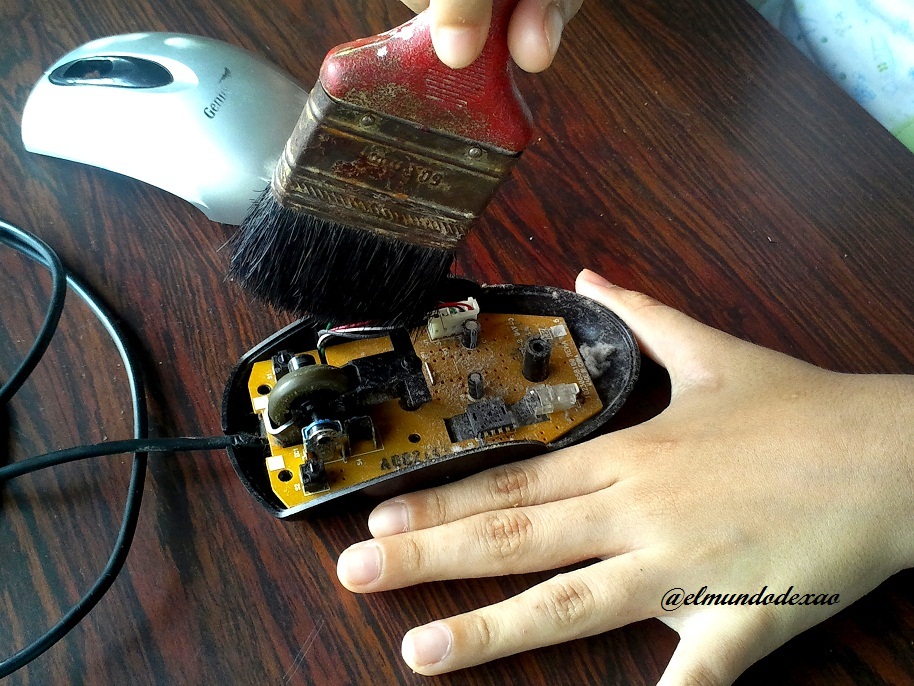 Poco a poco limpie todo el polvo que podía ver y cuando termine decidí remover la tarjeta de circuitos y me lleve otra sorpresa, tenía más polvo en la parte de abajo.
Little by little I cleaned up all the dust that I could see and when I finished I decided to remove the circuit board and was surprised by another, it had more dust on the bottom.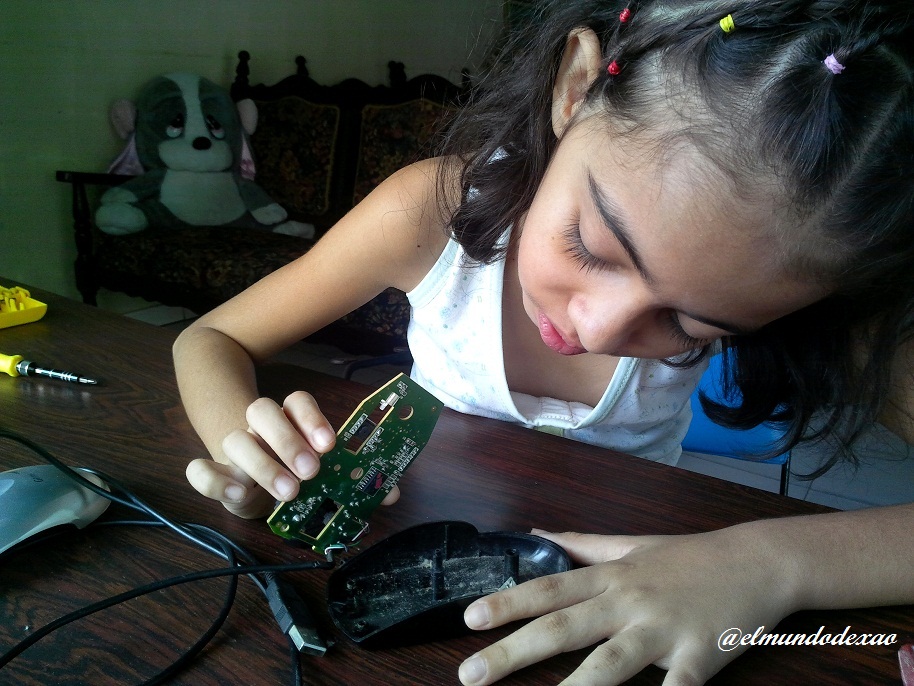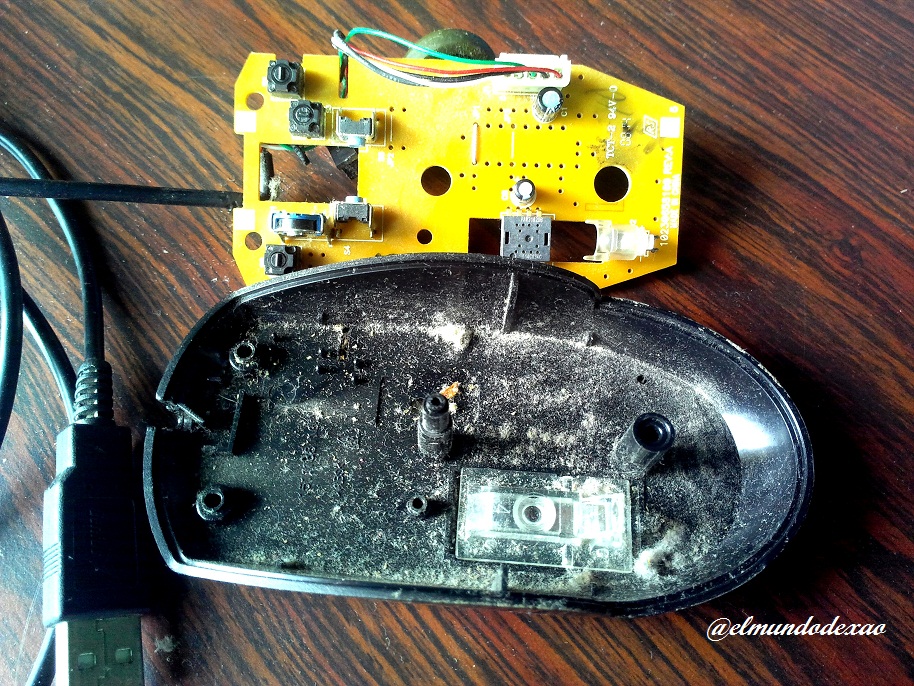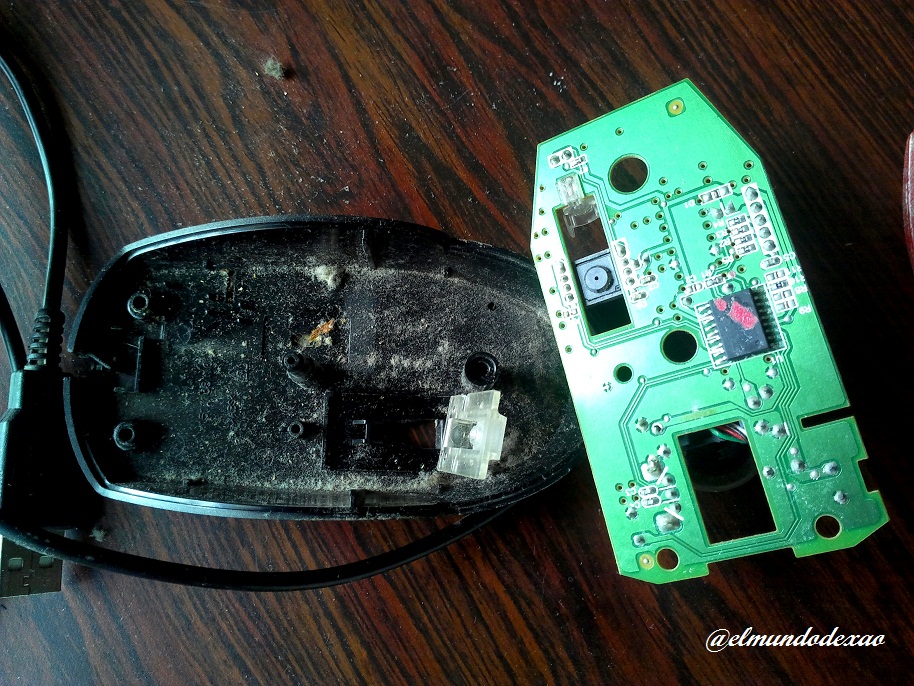 Ya está limpio; solo que ahora tendré que armarlo ya que se fueron saliendo las piezas a medida que curioseaba.
It's clean already; only now I will have to assemble since the pieces were coming out as I browsed.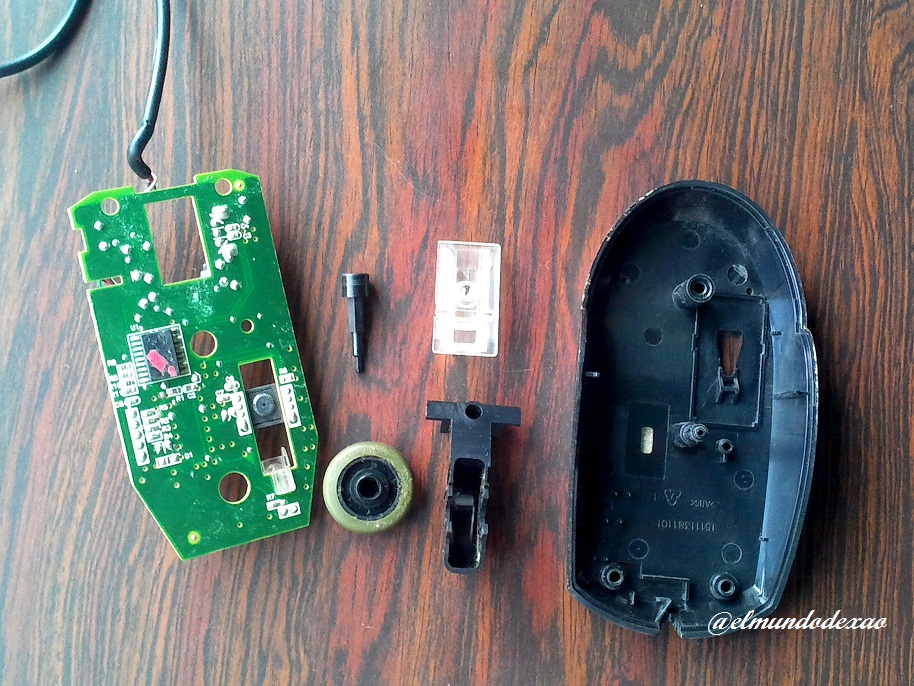 Fue fácil armarlo ahora debo recordar cómo estaba colocado el cable para no pisarlo con la tapa ya que esto podría entorpecer el buen funcionamiento.
It was easy to assemble now I must remember how the cable was placed so as not to step on it with the cover as this could hinder the proper functioning.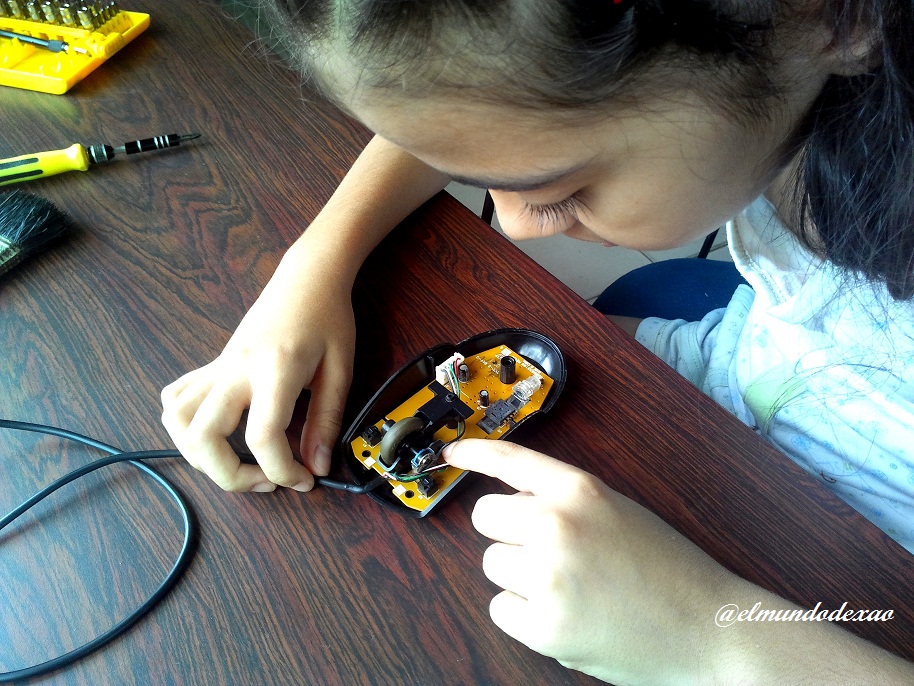 Esta fue la primara forma que intente, solo que la tapa no serraba y eso solo para cuando el cable queda pisado y eso se puede comprobar en el cable negro que se ve todo mallugado, posiblemente por haber quedado pisado en el pasado.
This was the first way I tried; only that the cover did not saw and that only for when the cable is stepped on, you can see in the black cable that it looks all damaged, possibly due to having been stepped on in the past.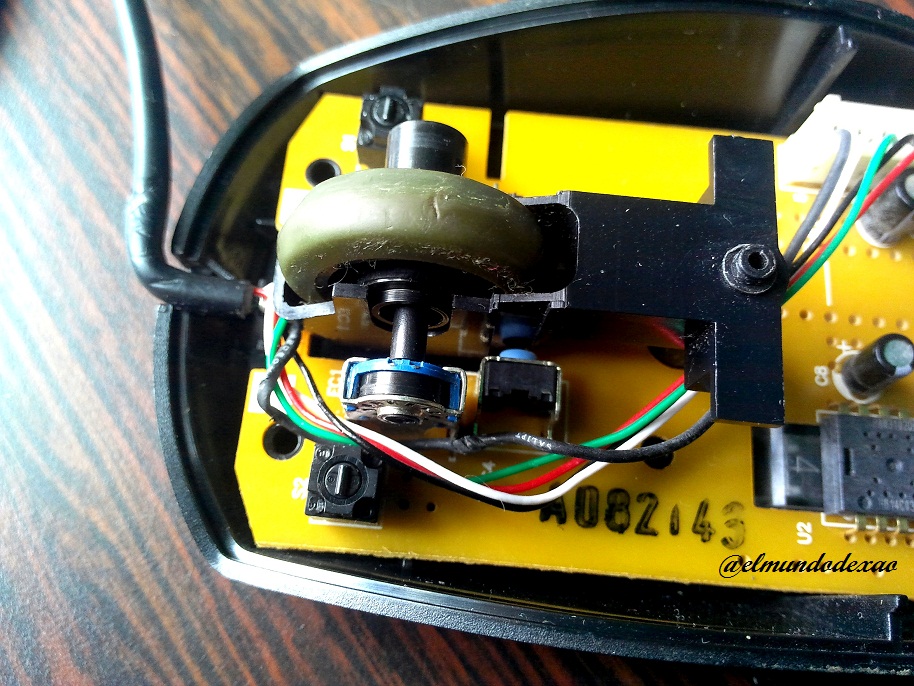 Me explicaron que actualmente somos afortunados ya que anteriormente los mouse eran opto-mecánicos (estos usaban una pequeña bola en vez de un infrarrojo o láser).
They explained to me that we are currently fortunate as previously mice were optomechanical (they used a small ball instead of an infrared or laser).
Fuente de Fotos: Propias capturadas con una cámara Síragon. Modificado el tamaño: Con el Programa Paint. Photo Source: Own photos captured with a Síragon camera. Modified size: With the Paint Program.
Esta fue la forma que coloque el cable para que funcione sin problemas. Fue un alivio que solo fue un poco de polvo y no hubo que reparar ningún cable. Me despido hasta una próxima oportunidad.
This was the way I laid the cable so it would work smoothly. It was a relief that it was only a little dusty and no cables had to be repaired. I say goodbye until the next opportunity.
Gracias por visitar mi Blog… ¡AH! No se olvide de votar, reesteemear y comentar.
Thanks for visiting my blog... Ah! Don't forget to vote, reesteemear and comment.
Traducido con / Translated with:
Future reading