Some good quality keyboards (Episode-01)
Hello friends, how are you, today I appeared again with new topics, mainly with computer keyboard. Because the importance of the keyboard is immense when it comes to running a computer. It is very common for keyboards to vary by job, as you will never be able to do mechanical keyboard or productivity work with a simple keyboard, productive work keyboards must have additional features. In the same way you will need a separate keyboard for gaming. So today we will discuss the best mechanical, gaming, wireless, HTPC and budget keyboards in the market of 2020. The best keyboard for productivity: Das Keyboard 4Q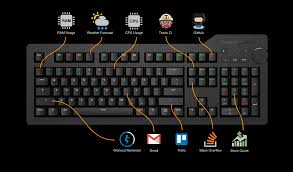 Image Source Over several years our mechanical keyboard has been at the forefront of recommendations, Das Keyboard. Das Keyboard has been a trusted name among keyboard enthusiasts for over a decade. A few years old keyboards can still work perfectly.
Das Keyboard 4Q, today will be my top choice for productivity, it's just as great as the previous Das Keyboard 4 Professional, but it looks a bit stylish and has RGB back-lighting. The 105 Key layout of Das Keyboard 4Q has a dedicated media hub, a volume knob, music play / pause button, mute the whole system. It would be unfair if I did not mention the aluminum top panel of the 4Q keyboard, this panel will not only increase the durability of the keyboard, it will also prevent fingerprints.
This keyboard will support Q software which was also in previous Das 5Q and X50Q keyboards. This allows you to select the lighting you like and customize it as needed.
For some reason this keyboard has two USB ports, although the ports are USB 2.0. However, the Das Keyboard 4 Pro had a USB 3.0 port. But one thing that is surprising is that the 5 250 (about 21200 rupees) Das 5Q keyboard does not have a USB Hub again.
The reason why this keyboard is preferred is because of its round design, it is designed in such a way that productivity work can be done very well. This keyboard can also be quite useful for gaming. The keyboard will give you first rate typing experience. The keyboard features the Cherry MX Brown switch, which is important for maintaining a quiet environment on mechanical keyboards.
Future reading